Freedom Ranger Color Yield
Starting at $2.90 each
Freedom Ranger Color Yield Chickens; the Better Broiler
Our Freedom Ranger Color Yield chickens reach processing weight one week faster than our standard Freedom Ranger chickens. At our family of hatcheries, we breed broiler chickens that meet your needs, while taking the best care to ensure the health and happiness of our flocks.
Download Growth Objectives Chart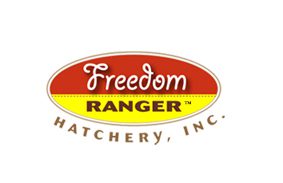 Freedom Ranger
In 2005, Kendall and his wife Ginger started hatching chicks in their two-car detached garage. The operation eventually expanded and was launched as Fox Farm & Hatchery, Inc. The Foxes then purchased the Freedom Ranger brand and incorporated the business under the name Freedom Ranger Hatchery, Inc.
Freedom Ranger Color Yield
Qty
Price
1-24

$2.90

25-49

$2.40

50-99

$1.80

100-499

$1.40

500+

$1.30

Next Available Ship Date 6/26/2023